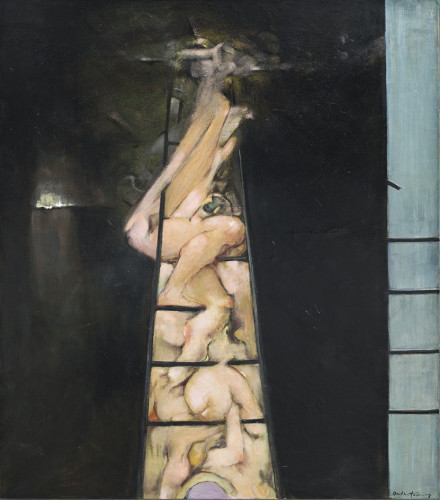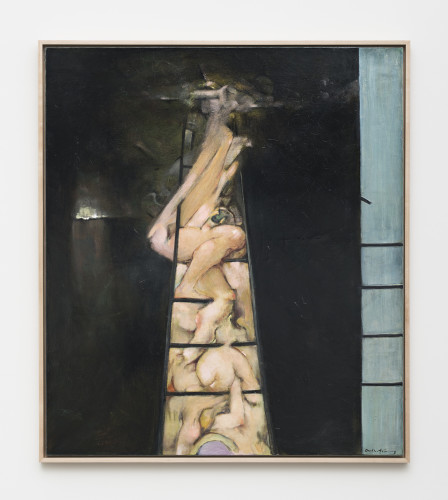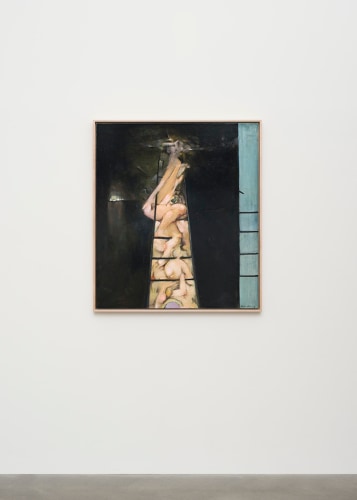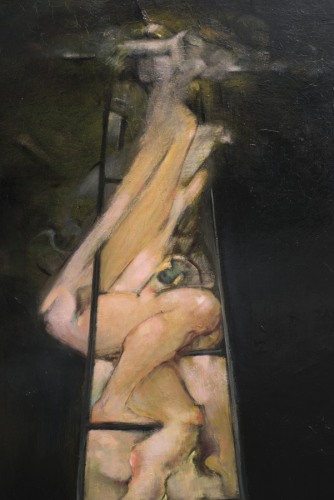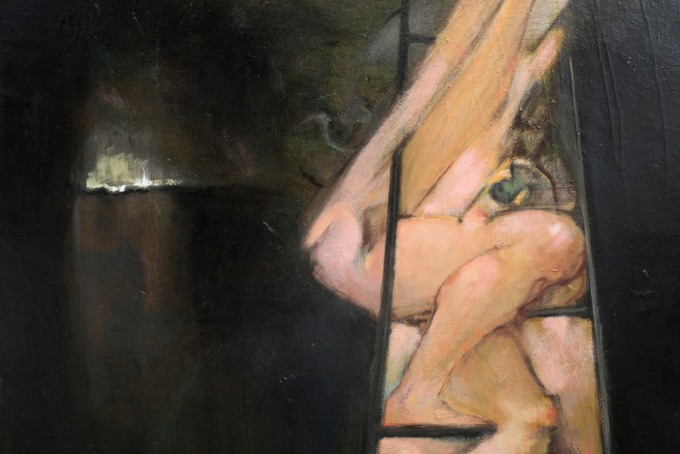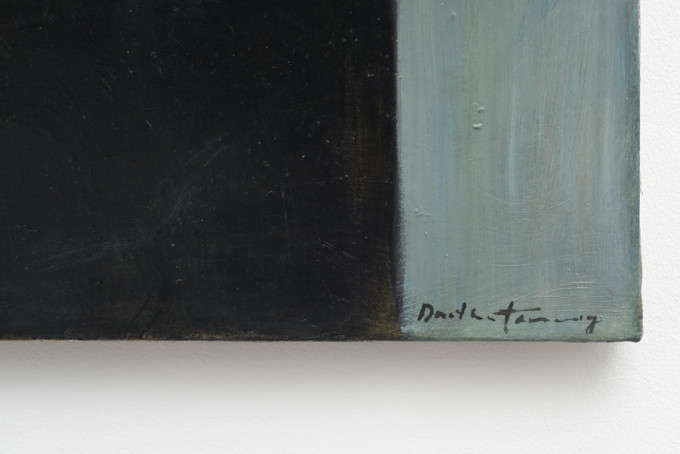 Dorothea Tanning
To Climb a Ladder
,
1987
Oil on canvas
120 x 105 cm, 47 1/4 x 41 3/8 ins
Signed 'Dorothea Tanning (lower right)
Inscribed on verso "To Climb a Ladder Dorothea Tanning 1987"
© Artists Rights Society, New York, and ADAGP, Paris
Dorothea Tanning said in 1989: "This painting went through several stages before finally taking shape. I just like the imprisoned flesh." This canvas was formerly a work called Aura, 1978. It has had conservation, including surface cleaning; local consolidation stress cracks in paint and ground layers; filling and inpainting of losses and small cracks using gesso and acrylic based colors; strip-lining of tacking edges using BEVA 371; and re-stretching of canvas onto new keyable stretcher.
Provenance
ex coll. Peter Morris, Chicago (who owned it briefly in the late 1980s)
Collection of the artist
The Destina Foundation, New York, USA

Exhibitions
Dorothea Tanning, Tate Modern, London, 27 February - 9 June 2019
Behind the Door / Another Invisible Door, Museo Nacional Centro de Arte Reina Sofía, 3 October 2018 - 7 January 2019

Dorothea Tanning: Mythic Talk, Cavaliero Fine Art, May 12-June 6, 1992
Literature
Caws, Mary Ann. "Person: Tanning's Self-portraiture." The Surrealist Look: An Erotics of Encounter. Cambridge, Mass: MIT Press, 1997, pp. 72-73
Publications
Bailly, Jean Christophe. Dorothea Tanning. New York: George Braziller, 1995, plate 163, illustrated in colour p. 186
Carruthers, Victoria. Dorothea Tanning: Transformations. London: Lund Humphries, 2020, cat no. 160, illustrated in colour p. 178