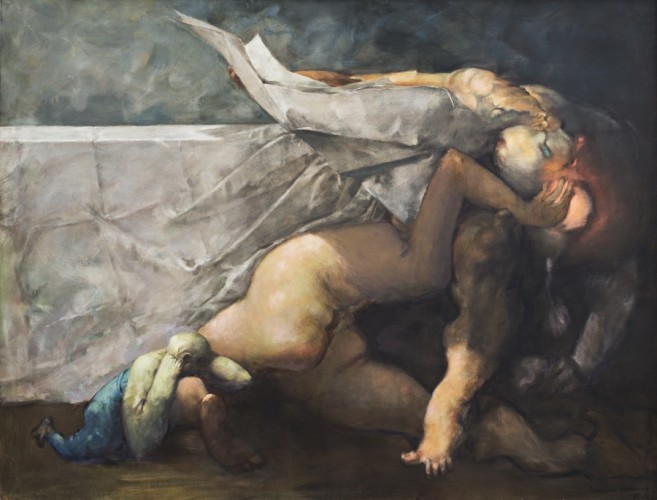 Dorothea Tanning
Notes for an Apocalypse
,
1978
Oil on canvas
Unframed: 124.3 x 163.5 cm / 49 x 64 3/8 ins
Framed: 126 x 165 x 3 cm / 49 1/4 x 65 x 1 1/8 ins
Signed l.r. "Dorothea Tanning 78", inscribed on verso "Notes for an Apocalypse Dorothea Tanning 1977"
© Artists Rights Society, New York, and ADAGP, Paris
When speaking on her relationship with Ernst in an interview, Tanning said: "I was a loner, am a loner, good Lord, it's the only way I can imagine working. And then when I hooked up with Max Ernst, he was clearly the only person I needed and, I assure you, we never, never talked art. Never." Ernst was married to Peggy Guggenheim when he met Tanning on a visit to het studio, in order to consider her work to a group show at The Art of this Century. "If it wasn't known that I had been a Surrealist, I don't think it would be evident in what I'm doing now. But I'm branded as a Surrealist. Tant pis." (By the late 1960s, Tanning's paintings were almost completely abstract, yet always suggestive of the female form.) WIKI As many Rococo scholars have argued the dog serves as an erotic metaphor, an idea Tanning had already investigated in the early 1950s with Tableau vivant. The intermingling of the dog and body returns as a major theme throughout the 1970s as does a swirling eroticization of amorphous nudes in such tumbling visual orgies as 'Family Portrait' and Notes for an Apocalypse'. If the kaleidoscope was still in use by this point then it presents a close up view of the body which abstracts and contorts its articulation into fleshy humanoid shapes which both merge and split from each other.
Provenance
Collection of the artist;
The Estate of Dorothea Tanning;
The Destina Foundation, New York.
Exhibitions
"Dorothea Tanning: 10 Recent Paintings and a Biography," Gimpel-Weitzenhoffer Gallery, New York, October 16 - November 15, 1979, catalogue, cat. no. 6;
"Eleven Paintings by Dorothea Tanning," Kent Fine Art, Inc., New York, May 18 - June 18, 1988, catalogue, cat. no. 3;
"Dorothea Tanning: Om Konst Kunde Tala (If Art Could Talk)," Malmö Konsthall, Malmö, Sweden, (retrospective), April 3 - May 16, 1993, catalogue, cat. no. 41, misdated 1977;
"Dorothea Tanning: Works 1942-1992," Camden Arts Centre, London, September 17 - November 21, 1993, brochure, misdated 1977;
"Dorothea Tanning: Still in the Studio," Boston University Art Gallery, Boston, March 5 - April 11, 1999, brochure;
"Dorothea Tanning: Birthday and Beyond," Philadelphia Museum of Art, Philadelphia, November 24, 2000 - January 7, 2001, brochure;
"All in this Together: Dorothea Tanning & Friends," Kent Gallery, New York, September 10 - November 28, 2009, (online catalogue);
"Invitation Exhibition of Visual Arts, American Academy of Arts and Letters, March 11 – April 11, 2010;
"Dorothea Tanning: Unknown but Knowable States," Gallery Wendi Norris, San Francisco, January 10 - March 2, 2013 cat. no. 27, catalogue
Literature
Henry, Gerrit. "Gimpel & Weitzenhoffer Gallery, New York; Exhibition." Art News 79, no. 1 (January 1980), p. 164, misdated 1977;
Russell, John. "Dorothea Tanning at Gimpel & Weitzenhoffer" Art in America 68 (February 1980), p. 130;
Russell, John. "Dorothea Tanning: Paintings 1961–87." The New York Times, May 27, 1988, III, p. 22:3, misdated 1977;
Schwendenwien, Jude. "Reviews: Dorothea Tanning: Kent Fine Art." Artforum 27, no. 3 (November 1988), p. 144, misdated 1977;
Palmqvist, Bertil. "Dorothea i Underlandet—Fascinerande färd i Malmö Konsthall." Arbetet, April 19, 1993, p. , misdated 1977;
Buck, Louisa. "Dorothea Tanning: Works 1942-1992." Exhibition guide. London: Camden Arts Centre, London, 1993, misdated 1977;
Hagenberg, Roland. "Dorothea Tanning" (Interview). Art of Russia and the West, No. 1 (March 1989), p. 25;
Taylor, John Russell. "More than a match for Max Ernst." The Times, September 30, 1993, p. 37, misdated 1977;
Bailly, Jean-Christophe. "Image Redux: The Art of Dorothea Tanning." Dorothea Tanning. New York: George Braziller, 1995, p. 39, 42-43;
Russell, John. "A Solitary Sensibility." Dorothea Tanning. New York: George Braziller, 1995, p. 9;
Caws, Mary Ann. "Person: Tanning's Self-portraiture." The Surrealist Look: An Erotics of Encounter. Cambridge, Mass: MIT Press, 1997, pp. 66, 68-69;
Duehr, Gary. "Dorothea Tanning's Late, Great Art." Boston Tab, March 9-15, 1999, p. ;
Levitt, Annette Shandler. "Women's Work: The Transformations of Leonor Fini and Dorothea Tanning." The Genres and Genders of Surrealism. New York: St. Martin's Press, 1999, p. 95;
Tanning, Dorothea. "Notes for an Apocalypse." Dorothea Tanning: Birthday and Beyond. Exhibition brochure. Philadelphia: Philadelphia Museum of Art, 2000, n.p.; Tanning, Dorothea. Between Lives: An Artist and Her World. New York: W.W. Norton & Company, 2001, p. 327;
Wood, Gaby. "Arts Interview: 'I've Always Been Perverse.'" The Observer (August 15, 2004), p. 7;
Schwabsky, Barry. "Her Wild Entire." The Nation, March 8, 2010, p. 34;
"Abridged Biographical Chronology." Dorothea Tanning: Unknown but Knowable States. San Francisco: Gallery Wendi Norris, 2013, p. 77;
Dorothea Tanning: Unknown but Knowable States. San Francisco: Gallery Wendi Norris, 2013, p. 68;
McAra, Catriona. "Kaleidoscope Eyes: Cytherean Voyages in the Post-Surrealist Practice of Dorothea Tanning." Dorothea Tanning: Unknown but Knowable States. San Francisco: Gallery Wendi Norris, 2013, p. 15;
Matthews, Graham, and Sam Goodman. Introduction." Violence and the Limits of Representation. Graham Matthews and Sam Goodman, eds. Basingstoke: Palgrave Macmillan, 2013, p. 6;
McCara, Catriona. "Sadeian Women: Erotic Violence in the Surrealist Spectacle." Violence and the Limits of Representation. Graham Matthews and Sam Goodman, eds. Basingstoke: Palgrave Macmillan, 2013, pp. 69, 80
Publications
Reproductions:
Dorothea Tanning: 10 Recent Paintings and a Biography. Exhibition catalogue. New York: Gimpel-Weitzenhoffer Gallery, 1979, plate 6 (color);
Henry, Gerrit. "Gimpel & Weitzenhoffer Gallery, New York; Exhibition." Art News 79, no. 1 (January 1980), p. 164 (color), misdated 1977;
Bourget, Jean-Loup. "Dorothea Tanning." La Vie des Arts 24, no. 98 (Spring 1980), p. 17 (black-and-white);
Eleven Paintings by Dorothea Tanning. Exhibition catalogue. New York: Kent Fine Art, Inc., 1988, p. 13 (color);
Hagenberg, Roland. "Dorothea Tanning" (Interview). Art of Russia and the West, No. 1 (March 1989), p. 29 (color);
Dorothea Tanning. Retrospective exhibition catalogue. Malmö, Sweden: Malmö Konsthall, 1993, p. 94 (color);
"Dorothea Tanning: Works 1942-1992." Exhibition guide. London: Camden Arts Centre, London, 1993, unpaginated (black-and-white);
Bailly, Jean Christophe. Dorothea Tanning. New York: George Braziller, 1995, plate 127, p. 153 (color);
Dorothea Tanning: Birthday and Beyond. Exhibition brochure. Philadelphia: Philadelphia Museum of Art, 2000 (color);
Tanning, Dorothea. Between Lives: An Artist and Her World. New York: W.W. Norton & Company, 2001, fig. 47 (black-and-white);
Dorothea Tanning: Unknown but Knowable States. San Francisco: Gallery Wendi Norris, 2013, p. 69 (color);
McAra, Catriona. "Kaleidoscope Eyes: Cytherean Voyages in the Post-Surrealist Practice of Dorothea Tanning." Dorothea Tanning: Unknown but Knowable States. San Francisco: Gallery Wendi Norris, 2013, p. 15 (color);
McCara, Catriona. "Sadeian Women: Erotic Violence in the Surrealist Spectacle." Violence and the Limits of Representation. Graham Matthews and Sam Goodman, eds. Basingstoke: Palgrave Macmillan, 2013, cover (color). p. 69 (black-and-white);
Dorothea Tanning. Exhibition catalogue. London: Tate Modern, 2018, p.118 (colour)