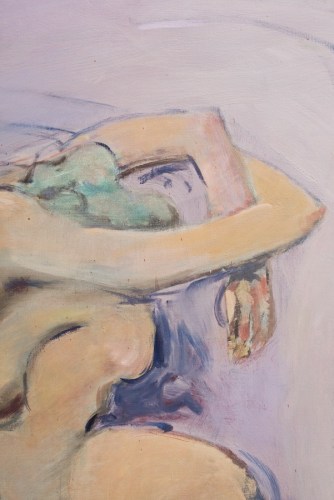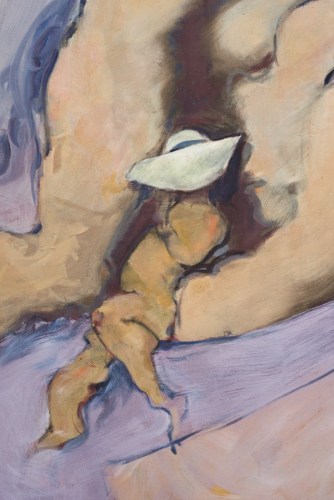 Dorothea Tanning
Heroines
,
1983
Oil on canvas
Unframed: 130 x 97 cm / 51 1/8 x 38 1/4 ins
Framed: 131.4 x 95.6 x 2 cm / 51 3/4 x 37 5/8 ins
Signed l.r. "Dorothea Tanning 83", inscribed on verso "Dorothea Tanning Heroines 1983"
© Artists Rights Society, New York, and ADAGP, Paris
When speaking on her relationship with Ernst in an interview, Tanning said: "I was a loner, am a loner, good Lord, it's the only way I can imagine working. And then when I hooked up with Max Ernst, he was clearly the only person I needed and, I assure you, we never, never talked art. Never." Ernst was married to Peggy Guggenheim when he met Tanning on a visit to het studio, in order to consider her work to a group show at The Art of this Century. "If it wasn't known that I had been a Surrealist, I don't think it would be evident in what I'm doing now. But I'm branded as a Surrealist. Tant pis." (By the late 1960s, Tanning's paintings were almost completely abstract, yet always suggestive of the female form.) WIKI
Provenance
Collection of the artist;
The Estate of Dorothea Tanning;
The Destina Foundation, New York.
Exhibitions
"Dorothea Tanning: Paintings," Stephen Mazoh Gallery, New York, September 27 - October 29, 1983, cat. no. 7
"Dorothea Tanning," Feingarten Galleries, Los Angeles, April 3 - May 31, 1987
"Dorothea Tanning: Web of Dreams," Alison Jacques Gallery, London, July 11 - September 27, 2014;
"Dorothea Tanning: Murmurs," Marianne Boesky Gallery, New York, May 11 – June 27, 2015;
Publications
Dorothea Tanning: Paintings. Exhibition catalogue. New York: Stephen Mazoh Gallery, 1983, plate 7 (color)
Bailly, Jean Christophe. Dorothea Tanning. New York: George Braziller, 1995, plate 187, p. 205 (color)