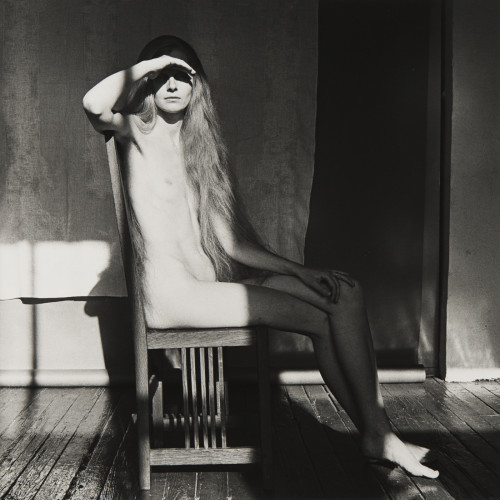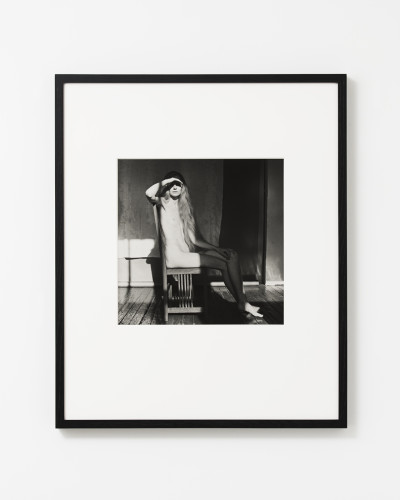 Robert Mapplethorpe
Carol Overby
,
1979
Silver Gelatin Print
50.8 x 40.6 cm, 20 x 16 ins, paper size
Edition 4/10
© Robert Mapplethorpe Foundation. Used by permission
Exhibitions
2016: Teller on Mapplethorpe, Alison Jacques Gallery, London
2003: Eye to Eye, Sean Kelly Gallery, New York. Curated by Cindy Sherman

1999: Robert Mapplethorpe, Centre Cultural La Beneficencia, Valencia, Spain
1992: Robert Mapplethorpe, Louisiana Museum of Modern Art, Humlebaek, Denmark. Traveled to Centro di Documentazione di Palazzo Fortuny, Venice, Italy (1992); Castello di Rivoli Museo d'Arte Contemporanea, Turin, Italy (1992); Moderna Museet, Stockholm (1992); Museo d'Arte Contemporanea, Prato, Italy (1993); Residence of Embassador Negroponte, Manila, Philippines (1993); Museo Pecci Prato, Prato, Italy (1993); Turun Taidemuseo, Turku, Finland (1993); Palais des Beaux Arts, Brussels, Belgium (1993); Tel Aviv Museum of Art, Tel Aviv, Israel (1994); Fundació Joan Miró, Barcelona, Spain (1994); KunstHaus, Wien, Vienna, Austria (1994); Museum of Contemporary Art, Sydney, Australia (1995); Art Gallery of Western Australia, Perth, Australia (1995); City Gallery Wellington, Wellington, New Zealand (1995); Hayward Gallery, London, England (1996); Gallery of Photography, Dublin, Ireland (1996); Museo de Art Moderna, São Paulo, Brazil (1997); Staatdgalerie, Stuttgart (1997). Curated by Germano Celant.
1988: Mapplethorpe Portraits, National Portrait Gallery, London. Catalogue with text by Peter Conrad.

Publications
Robert Mapplethorpe. Edited by Ikuroh Takano. Monograph. Tokyo: Parco, 1987.
Mapplethorpe Portraits. Essay by Peter Conrad. Exhibition Catalogue. London: National Portrait Gallery Publications, 1988.
Mapplethorpe [European Retrospective]. Edited by Germano Celant. Exhibition Catalogue. Milan: Electa/Louisiana Museum of Modern Art, 1992.
Mapplethorpe. Essay by Arthur C. Danto. Monograph. New York: Random House, 1992. Reprinted in 2007 by teNeues, New York.
Robert Mapplethorpe. Exhibition Catalogue. Valencia, Spain: Centre Cultural La Beneficencia, 1999.
Robert Mapplethorpe X7. Exhibition Catalogue. Interviews by Richard Flood. New York: teNeues Publishing, 2011.