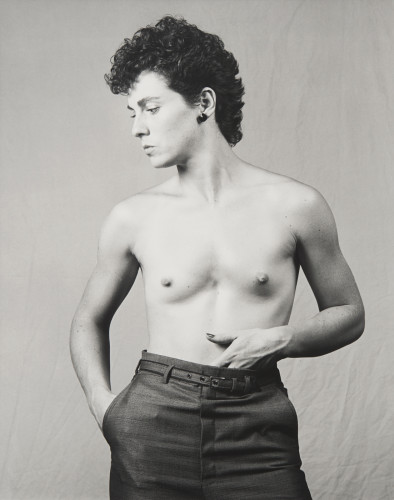 Robert Mapplethorpe
Pat Dawkins
,
1982
Silver Gelatin Print
50.8 x 40.6 cm, 20 x 16 ins, paper size
Edition 3/10
© Robert Mapplethorpe Foundation. Used by permission
Exhibitions
2016: Teller on Mapplethorpe, Alison Jacques Gallery, London
2015: Warhol & Mapplethorpe: Guise & Dolls, Wadsworth Atheneum Museum of Art, Hartford, CT. Catalogue. Curated by Patricia Hickson
2009: Robert Mapplethorpe, Galeria Fortes Vilaca, São Paulo, Brazil. Curated by Vik Muniz
2003: Eye to Eye, Sean Kelly Gallery, New York. Curated by Cindy Sherman.
Publications
Robert Mapplethorpe X7. Exhibition Catalogue. Interviews by Richard Flood. New York: teNeues Publishing, 2011.
Warhol & Mapplethorpe: Guise & Dolls. Edited by Patricia Hickson. Exhibition Catalogue. Hartford, CT: Wardsworth Atheneum Museum of Art/Yale University Press, 2015.