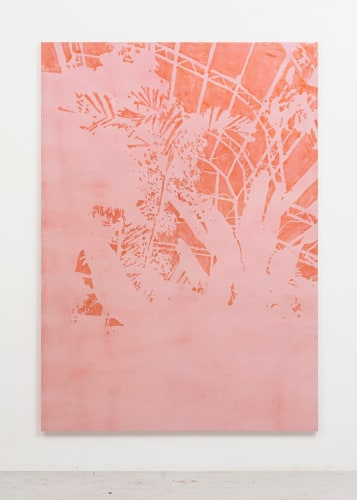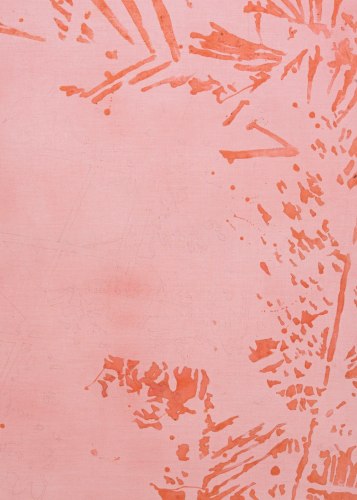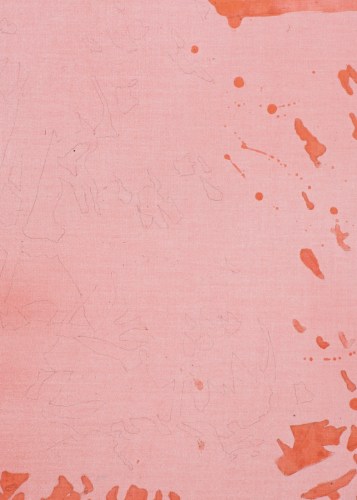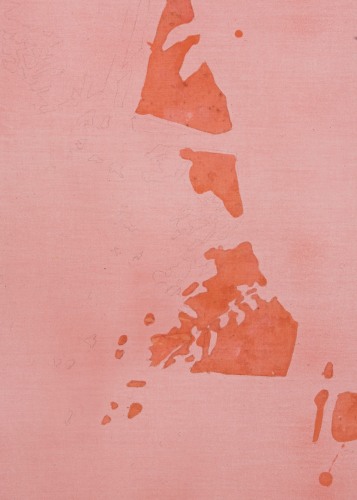 Ian Kiaer
Quick City, (red cloth)
,
2018
Varnish, pencil, acrylic, acetate on linen
230 x 180 x 4 cm, 90 1/2 x 70 7/8 x 1 5/8 ins
This works focuses on the work of the philosopher Michael Marder, a proponent of 'environmental thought', which considers plants as living beings that possess their own forms of subjectivity. Marder's work develops a critique of anthropocentric empathy towards plants, and has been influential to Kiaer's recent work. In preparation for the work, Ian has been visiting and making drawings in the prefabricated greenhouses at Oxford Botanic Gardens. Ian was in part influenced by Ludwig Wittgenstein sitting on the parapet in the Palm House of the Botanic Gardens, Dublin, writing, where during the winter he found the heated Palm House very congenial. Wittgenstein working spaces had previously been inspiration for in his exhibition Art Now, TATE 2014. (please find further details below) Finally, Kiaer brings these two concerns into relation through fragments from the Samuel Beckett short story, Ping, (1966) an embodied space where repeated words defy a linear reading in favour of something more spatial, material and rhythmic. Materials including cardboard, foam core, and plastic sheeting is used to produce paintings that rest between chance and intentionality, emphasising qualities of lightness, impermanence and transparency. The apparent vulnerability of his work is indicative of a practice that continually throws the status of the work as art into question. These works are part of a larger project - Endnote, tooth; that Ian has been working on since the show at the Henry Moore Institute in 2014 and most recently for my show at MAM Paris, that presented propositions in the form of paintings, models, and fragments with a concern for certain ideas apparent in the work of Frededrick Kiesler. The architect developed a critique of formalist approaches to design and display in favour of increasingly biomorphic solutions and structures found in nature. The title refers to Kiesler's "Tooth House," a marginal project that relates to his more extended 'Endlessness House', where he drew upon a convergence of ethnography, science and magic to develop notions of dwelling. These particular works use the scratched, marked and stained surfaces of bus stop screens to prompt the emergence of the painted image.   "Ping" is a short story written by Samuel Beckett written in French (originally "Bing") in 1966, and later translated into English by the author and published in 1967. In 'Ping', Beckett restricts his vocabulary to around 100 words, although the story is approximately 1,000 words long. David Lodge has described it as: "the rendering of the consciousness of a person confined in a small, bare, white room, a person who is evidently under extreme duress, and probably at the last gasp of life." a hypnotic flow of words the meaning of which is initially utterly obscure. But persevere and patterns emerge: "moderate or good, occasionally poor later"/"white walls", "one square yard", "white scars". In both cases, we soon realise we are within a system of words performing very defined tasks, albeit ones only understood by initiates. Art Now, TATE 2014. Where Kiaer brings together two ongoing projects inspired by the landscape paintings of the sixteenth-century artist Pieter Brueghel and the working spaces of the philosopher Ludwig Wittgenstein. He presents earlier works alongside new pieces that develop previously established themes. Tentative connections weave through the works: the desire to view the world from a remote position, and the importance attributed to the location of the workplace or studio within the landscape, whether imaginary or built. However, rather than illustrate specific narratives, Kiaer evokes a context in which ideas and motifs overlap, encouraging a dialogue between the disparate components. Michael Marder is a Professor of Philosophy at the University of the Basque Country, and focuses his teachings on environmental thought. His most recent book Through Vegetal Being discusses vegetal breathing. Vegetal breathing looks at how plants contribute to human development by sustaining our breathing, nourishing our senses, and keeping our bodies and minds alive. Marder notes the importance of returning to ancient traditions to revive a culture closer to nature. This points towards a more universal way of becoming human, one that is embedded in the vegetal world.
Provenance
Collection the artist, London, UK