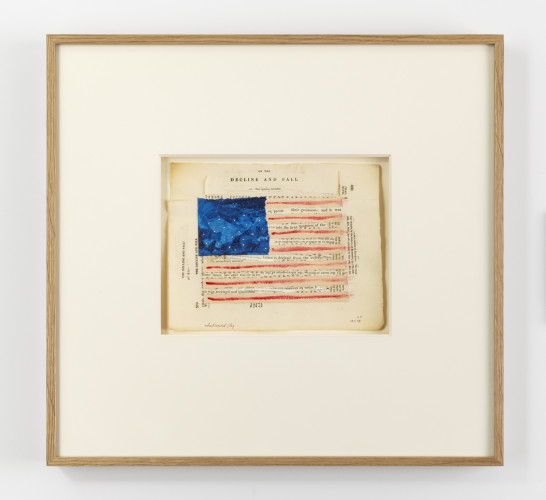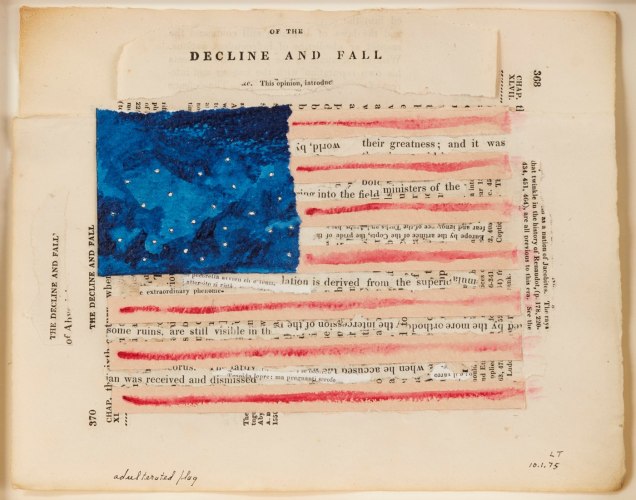 Lenore Tawney
Adulterated Flag
,
1975
Collage, paper, watercolour, acrylic
17.8 x 22.2 cm, 7 x 8 3/4 ins
45.7 x 54 x 3.3 cm, 18 x 21 1/4 x 1 1/4 ins, framed
Signed LT 10.1.75
Titled : Adulterated Flag
© Lenore G. Tawney Foundation
Tawney's collages incorporate such elements as the pages of rare manuscripts in many languages, bones feathers, blown eggshells, and stones, and they are often enriched by her own fine handwriting. Although these works are generally intimate in scale, the college paintings of the 1980's, Rose of Fire, 1980 (Collection Philip Morris Companies, Inc) and Manuscript Writing, 1980, are monumental. The collection of postcard collage represent the highly personal collages sent to friend.
Provenance
The Lenore G. Tawney Foundation, New York, USA
Exhibitions
Lenore Tawney: A Retrospective, American Craft Museum (now Museum of Arts and Design), 1990, New York, NY, USA (national tour)
Lenore Tawney: Fiber, Collage, Assemblage, Maryland Institute College of Art, Baltimore, MD, USA, 1992
Literature
Lenore Tawney: A Retrospective, American Craft Museum, New York, NY, 1990. Exhibition catalogue, pg. 97