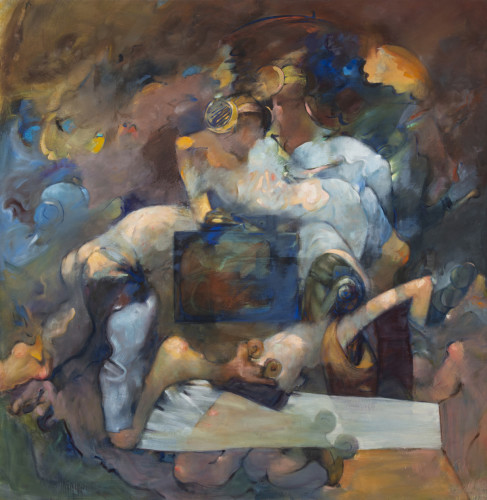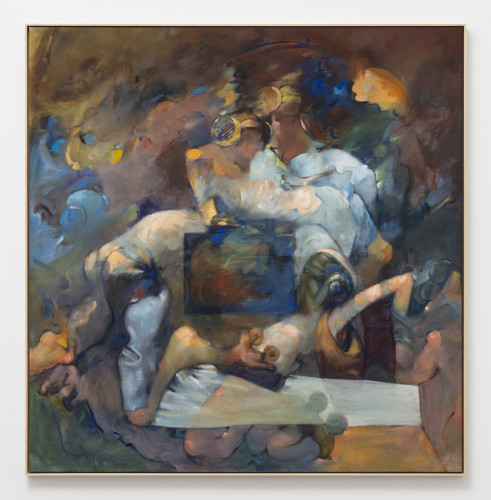 Dorothea Tanning
Pounding Strong
,
1981
Oil on canvas
208.3 x 203.2, 82 1/8 x 80 ins
209.6 x 204.5, 82 1/2 x 80 1/2 ins, framed
Signed and dated on recto 'Dorothea Tanning 1981' (lower right)
Inscribed on verso 'Pounding Strong Dorothea Tanning 1981'
© Artists Rights Society, New York, and ADAGP, Paris
In her own words: My painting called Pounding Strong was begun by looking out the window at these crazy kids careening down Fifth Avenue on roller skates, wearing earphones, and carrying their powerful radios.  They are like archangels.  I wouldn't be too surprised if they took to the air.  I'm coming to terms with something which is more just generally human—archangels aside…     – from interview with Carlo McCormick, "Dorothea Tanning," BOMB 33, (Fall 1990) p. 40, reprinted in Dorothea Tanning: Web of Dreams,  London: Alison Jacques Gallery, 2014.
Provenance
The Destina Foundation, New York, USA

Exhibitions
Dorothea Tanning: Paintings, Stephen Mazoh Gallery, New York, USA, 27 September - 29 October 1983, cat. no. 1
Dorothea Tanning, Feingarten Galleries, Los Angeles, USA, 3 April - 31 May 1987
Eleven Paintings by Dorothea Tanning, Kent Fine Art, Inc., New York, USA, 18 May - 18 June 1988, catalogue, cat. no. 6
Dorothea Tanning: Om Konst Kunde Tala (If Art Could Talk), Malmö Konsthall, Malmö, Sweden, 3 April - 16 May 1993, catalogue, cat. no. 46
Dorothea Tanning: Works 1942-1992, Camden Arts Centre, London, UK, 17 September - 21 November 1993, catalogue
Worlds in Collision, Alison Jacques Gallery, London, UK, 24 January - 21 March 2020

Literature
Henry, Gerrit. "Dorothea Tanning: Stephen Mazoh and Schlesinger-Boisanté." Art News 82, no. 10, December 1983, p. 156
Gibson, Ann. "Dorothea Tanning: The Impassioned Double Entendre." Arts Magazine 58, no. 1, September 1983, p. 102
Schwendenwien, Jude. "Reviews: Dorothea Tanning: Kent Fine Art." Artforum 27, no. 3, November 1988, p. 144
McCormick, Carlo. "Dorothea Tanning." Bomb 33, Fall 1990, p. 40
Radford, Robert. "Dorothea Tanning." Art Monthly, November 1993, p. 26
Kent, Sarah. "Dorothea Tanning." Time Out, October 6–13, 1993, p. 44
Bailly, Jean-Christophe. "Image Redux: The Art of Dorothea Tanning." Dorothea Tanning. New York: George Braziller, 1995, p. 44
Caws, Mary Ann. "Person: Tanning's Self-portraiture." in The Surrealist Look: An Erotics of Encounter. Cambridge, Mass: MIT Press, 1997, p. 71
McCormick, Carlo. "Dorothea Tanning." Interview for Bomb 33 (Fall 1990), reprinted in Dorothea Tanning: Web of Dreams. Exhibition catalogue. London: Alison Jacques Gallery, 2014, p. 9

Publications
Dorothea Tanning: Paintings. Exhibition catalogue. New York: Stephen Mazoh Gallery, 1983, illustrated in colour, plate 1
Eleven Paintings by Dorothea Tanning. Exhibition catalogue. New York: Kent Fine Art, Inc., 1988, illustrated in colour p. 19
Dorothea Tanning. Retrospective Exhibition catalogue. Malmö, Sweden: Malmö Konsthall, 1993, illustrated in colour p. 96
Bailly, Jean Christophe. Dorothea Tanning. New York: George Braziller, 1995, plate 139, p. 44, illustrated in colour p. 163
Carruthers, Victoria. Dorothea Tanning: Transformations. London: Lund Humphries, 2020, cat no. 163, p. 183, 189, illustrated in colour p. 182